Media Partner and Sponsorship Proposal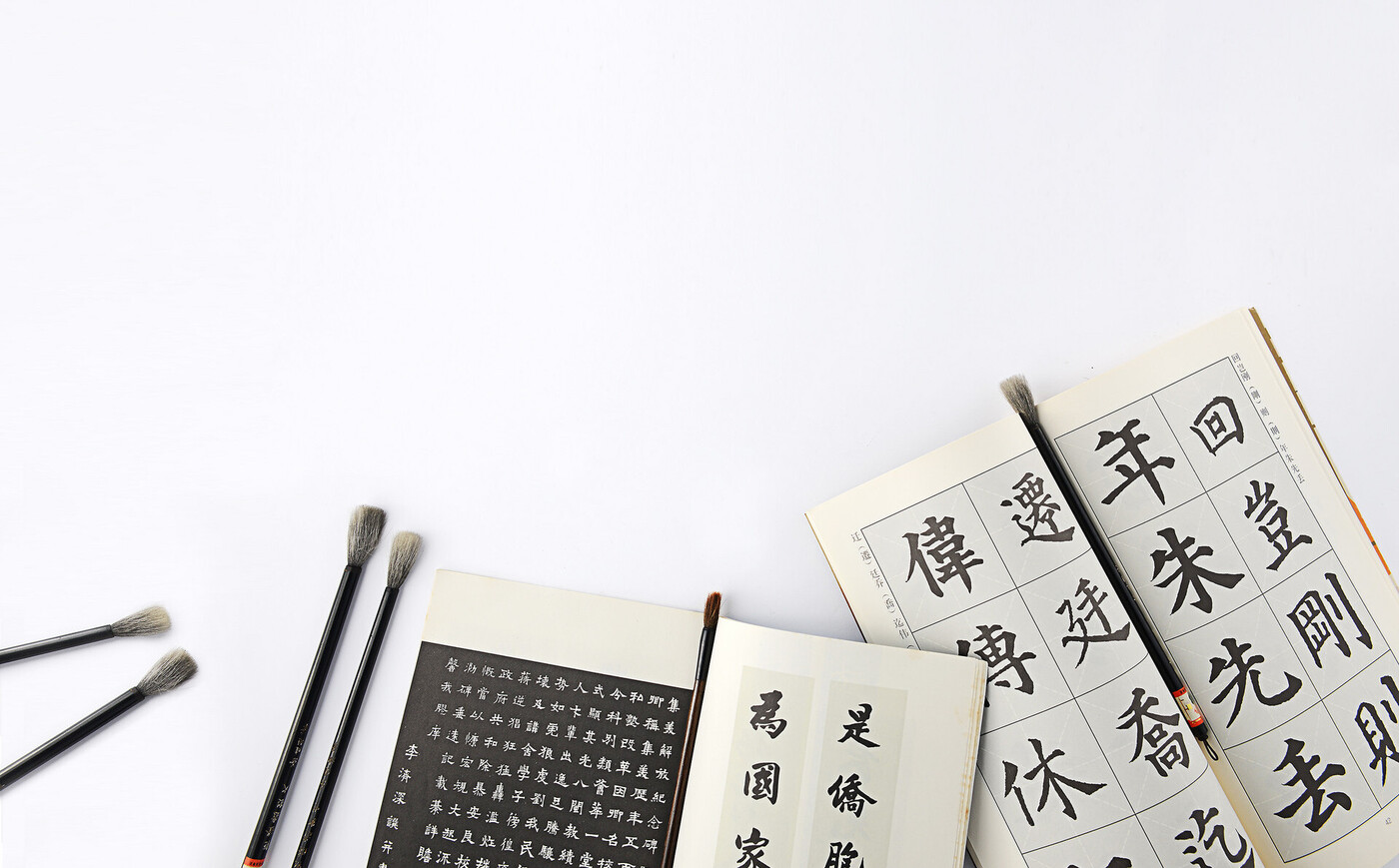 Introduction to ChineseSources.Org
Chinese Sources is a non-profit organization, an open-source platform to provide free postings of Chinese language courses, Chinese arts training, Chinese sports training, travel studies in China, Chinese cultural activities, business events and cooperation. Our mission is to build a bridge to help freelance teachers, students, self-learners, sponsors, business vendors and educational organizations to connect each other. Read more…
Courses & Programs Category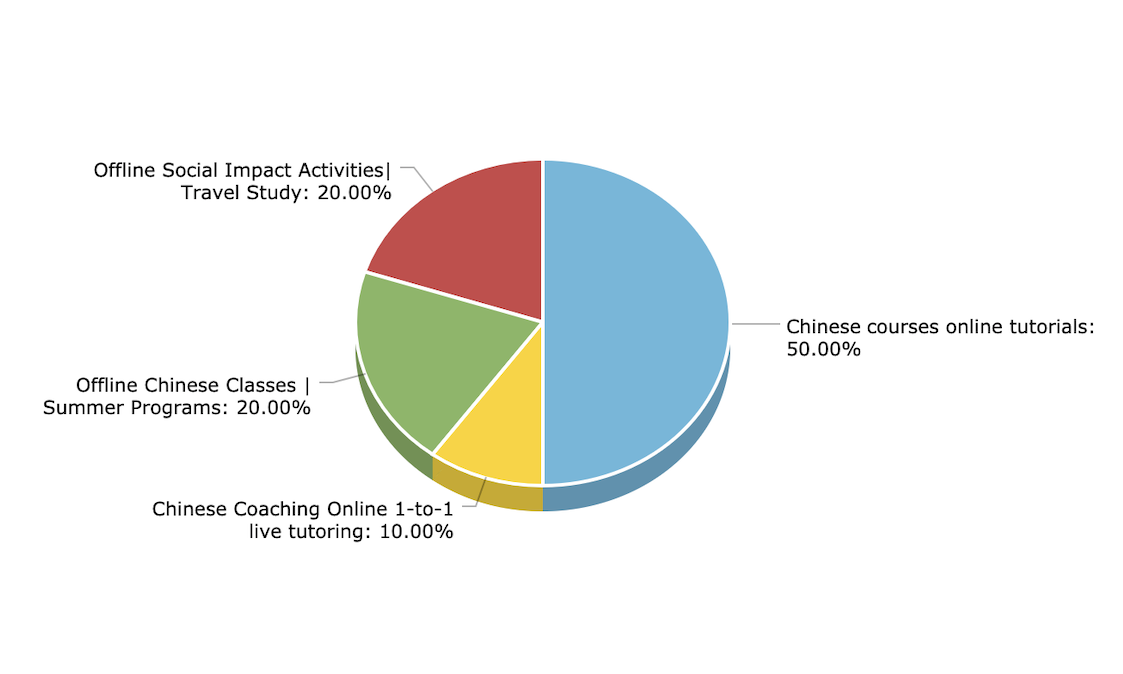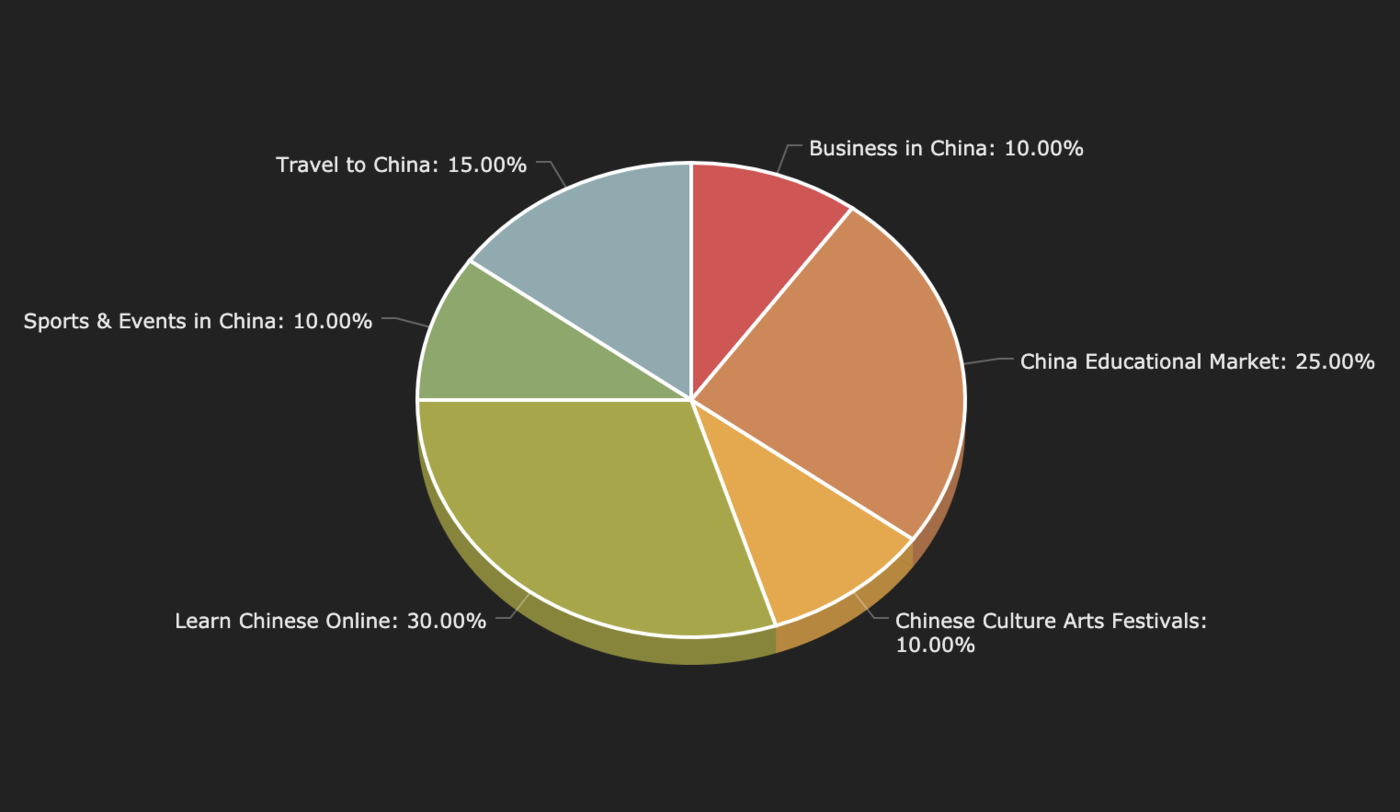 Chinese Sources Blog Category
Business in China 10%
China Educational Market 25%
Chinese Culture Arts Festivals 10%
Learn Chinese Online 30%
Sports & Events in China 10%
Travel to China 15%
Target Audience of Chinese Sources
Parents being interested in Chinese culture 40%
Working Adult - Self-learners 25%
Students at Schools20%
Digital Marketers 10%
Teachers and School Administrators 5%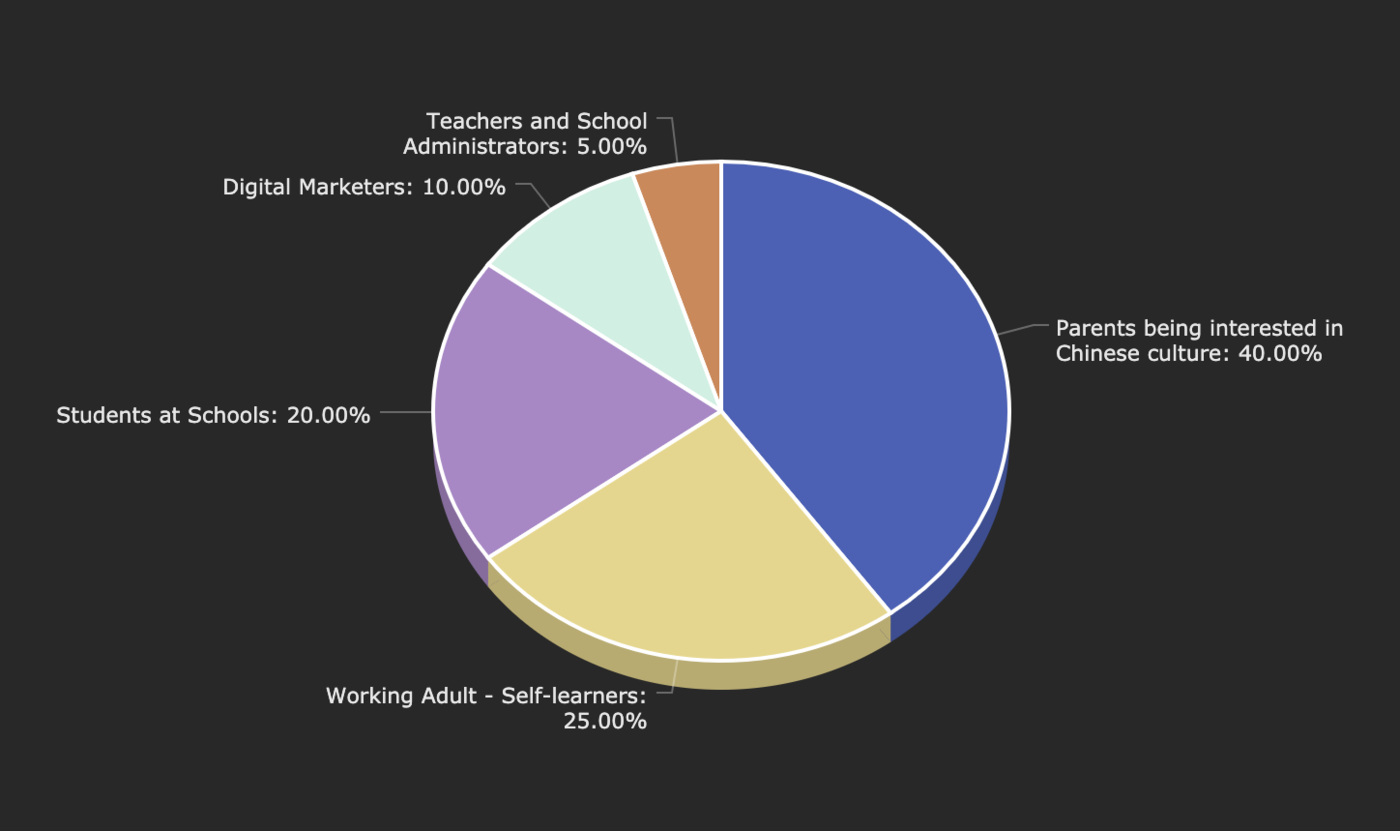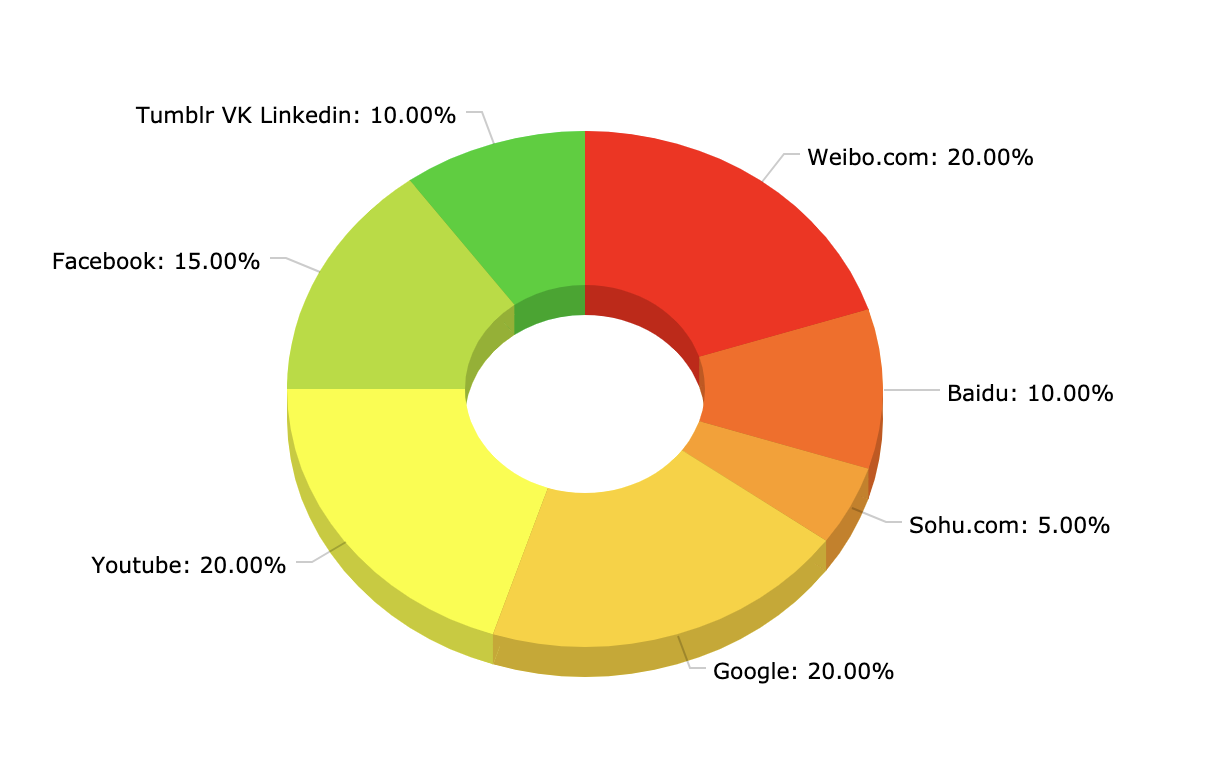 Blog Posts Percentage shared on Social Medias
Weibo.com 20%
Baidu 10%
Sohu.com 5%
Google 20%
Youtube 20%
Facebook 15%
Tumblr VK Linkedin 10%
- Media Partner Opportunities and Rewards to Sponsor -
2021 Four Sponsorship Plans 
Online Tutorials Plan
$50
US$50 – Give one student membership to access to any courses for 12 months. The online recorded tutorials are open 24 hours. Students can choose the right level Chinese courses based on their needs, such as, HSK test prep course, Travel Mandarin, Business Chinese and Survival Mandarin courses, etc.
Teachers' Plan
$400
US$400 – Support one Chinese teacher to work and create one set Chinese courses and video tutorials to be freely open on the platform of ChineseSources.org for the global students to learn online. The Chinese courses contents include HSK test prep course, Travel Mandarin, Business Chinese and Survival Mandarin courses, etc.
Online Tutoring Plan
$1,200
US$ 1200 – Give one student six months 1-on-1 tutoring with live Chinese language teacher. The time to spend on the tutoring is four hours per week, 16 hours per month. The students will get the live tutoring for 6 months. The teacher will schedule appointment with the student and choose the right level Chinese courses.
Social Impact Activities
$2,000
US$2,000 – Support one international student come to China and take part in one of the social impact activities for a period of two weeks every summer. We shall put the 10 students to a group for a travel study to experience the traditional Chinese culture, such as, the martial arts program or Chinese Calligraphy class or Pottery museum tour.
- Media Partner Opportunities -

VALUES OF SPONSORSHIP
The amount you give is completely up to you. You may consider the donation for one whole program or part of the programs. The following are some rewards and options to consider when considering our sponsorship request:
– Your organization name, description, and logo banner on the homepage of the website ChineseSources.org;
– Your organization name, description and logo banner on our marketing materials and at right hand side of blog page; The sponsors ads banner is linked to your website and China social medias. The post ranking of the paid sponsor is in the front priority list.
– Your organization name and logo on marketing materials, such as, T-shirts, travel bags, standing banners in the social activities.
– The sponsors will have a highlight exposure at top ranking, when you use the ChineseSources.org blog platform to post your articles and videos, which will draw more readers' attention, traffic flow. There is embedded form submission to help you collect some potential users, functions of documents downloading, slides show, audio/video tutorials storage. We help you solve the technical issues to display your videos smoothly on China server.
– The ChineseSources.org staff provide video editing and Chinese voice services; we also help you translate English contents to Chinese language.
– The international students from ten countries received your donation support will share their tour, photos, videos and experiences on both Chinese and global social medias.
– After we receive your idea to sponsor our programs and the budget amount, we will send you the sponsorship WORKSHEET to give you more details how we shall spend the money on the coming programs,such as,tuition, books, health insurance, transportation, hotels and food. We shall also send you the event time and how much costs to cover the teachers and students' expenses.
If your organization would like to participate in this year's event as a sponsor, please contact me with the amount of your donation. Please give us an email to contact us with any additional questions. Thank you for your time and consideration.
Media Partner Opportunities and Rewards to Sponsor :
上海地址
中国上海浦东新金桥路196号509室
邮编 201203
电话/微信 18918151538
电子信箱:seo.shengli@yahoo.com
美国通讯地址
Pioneer Media. LLC
30 N Gould St. Ste R
Sheridan WY 82801 US