Goals of Business and Tourism Mandarin Course
What will you learn from our Mandarin course?
In this fundamental Mandarin for business and Tourism course, you may be brought to conversational vocabulary and dialogues to help you study Chinese language skills in the areas of business and travel. You may pay attention to dialogues about job interviews and a way to ask and answer interview questions in Mandarin. You'll additionally learn critical and beneficial vocabulary while making business phone calls. You will find out the significance of small talk when starting up and forming business relationships and how to differentiate among colloquial and formal Chinese. You will also learn betters ways how to make a room reservation, reserve a seat in a restaurant and use various kinds of transportation when traveling.
This course introduces the Chinese vocabulary necessary for operating at a hotel reception, front desk or restaurants. The courses assist you how to communicate with potential clients for the duration of enquiries as well as how to make a room reservation for guests. This course teaches the Mandarin necessary for working in restaurants in touring regions or hotels. It explains how to take purchaser orders and offers key Chinese expressions for each step of food service. The course will also show the working situation in traveling inquiry offices including how to provide directions, apprehend guidebooks and write press releases. The Chinese needed for accomplishing guided tours is likewise described.
Certification
One way to show your Mandarin ability to learn and achieve high results is to pass this assessment and reach score 80%. To successfully complete a course, you must score 80% or higher in each course assessments. Upon successful completion of a course, you can choose to make your achievement formal by purchasing an official Summer Certificate program in Xia Men University. Having an official certificate is a great way to celebrate and share your success. It is ideal to include it with your CVs, job applications and portfolios. For more detailed information of the certificate program, Please Click Here.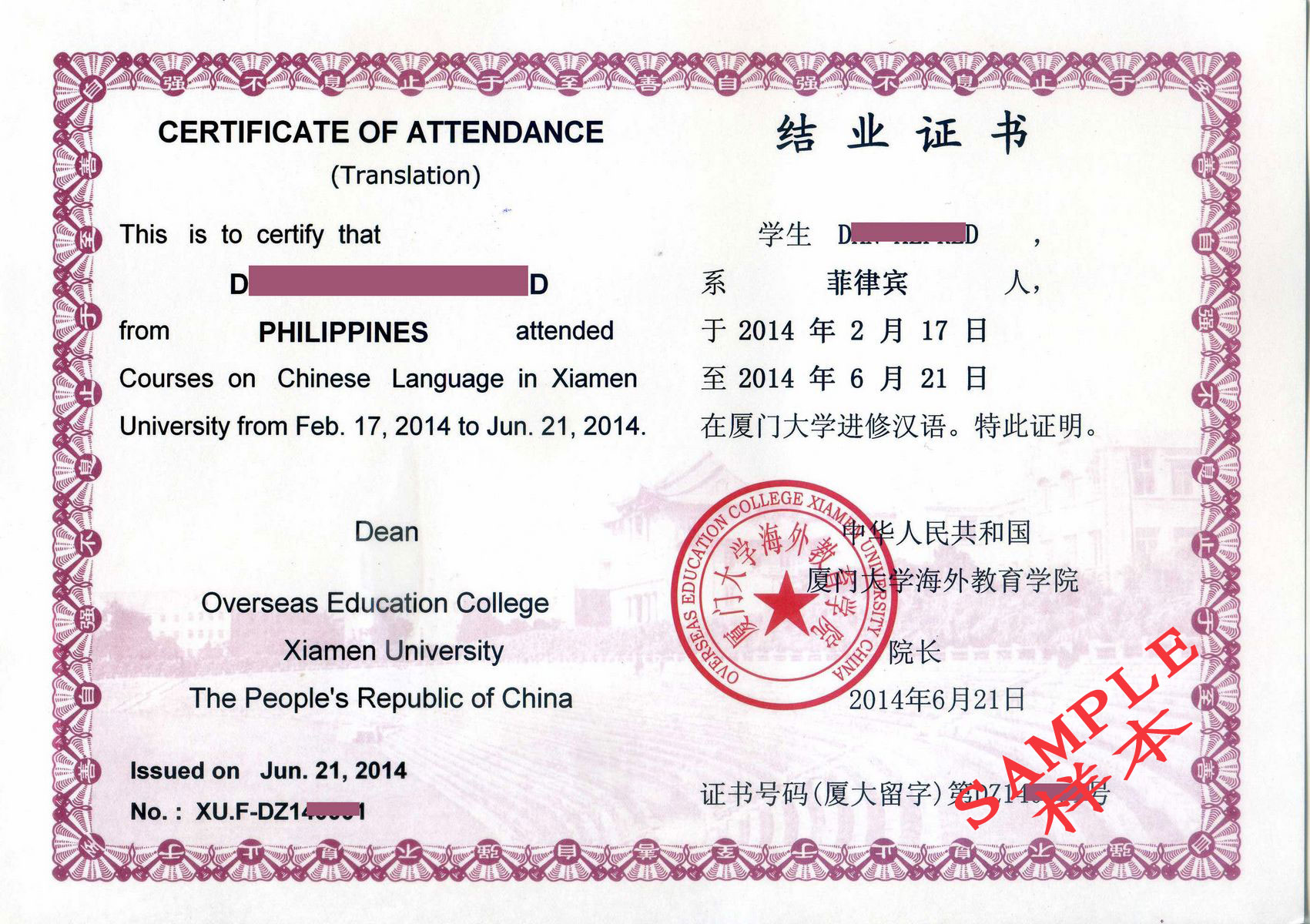 Certificate Opportunity
The business tourism Mandarin course is a preparatory training, appropriate for working adults who intend to take an examination for Chinese certificate. You're given the opportunity to practice the usage of Chinese language which you have obtained at seminars, on line course and communicative practice activities.
Tailor-Made Course
Whether or not you're new to the line or are a working professional, you will study and exercise the specific Chinese language skills required to excel in your everyday practice. Our experienced instructors focus on the specific vocabulary and grammar depending on your goals. Our on-line guides are tailor-made for students to increase their capability in the business and tourism industry, at different levels from beginning to advanced.
Blended Learning Solution
We are able to work with you to deliver the standard business and tourism Mandarin course for your wishes, primarily based to your lesson targets, expected end goals, time available, learning style, level and range of budget. You could combine face-to-face tutoring with online and mixed learning solutions. We promote a laugh and energetic studying environment where you may broaden your competencies and make new Chinese friends.
New Job Opportunity
Your Chinese network will continuously be growing. Making more friends will help you recognize the globe better, and it will assist you find new job opportunities in the future! Tourism is a growing business industry with numerous jobs. You will have many opportunities to research more, meet classmates and teachers, switch your job, tour to new places, continue to improve Chinese, get promotions and earn more money.
How does the learning work?