Explore China UNESCO World Heritage – Pingyao ancient town
Where is Pingyao ancient town?
Pingyao (平遥; Píngyáo) is a small old town on the UNESCO World Heritage List.
It is in Shanxi province, China. Pingyao's old town is typically considered the best ancient walled city in China. Pingyao town is one sq. mile, inhabited, mostly off-limits. It is constructed of cobbled streets and buildings almost entirely from the Ming and Qing dynasties.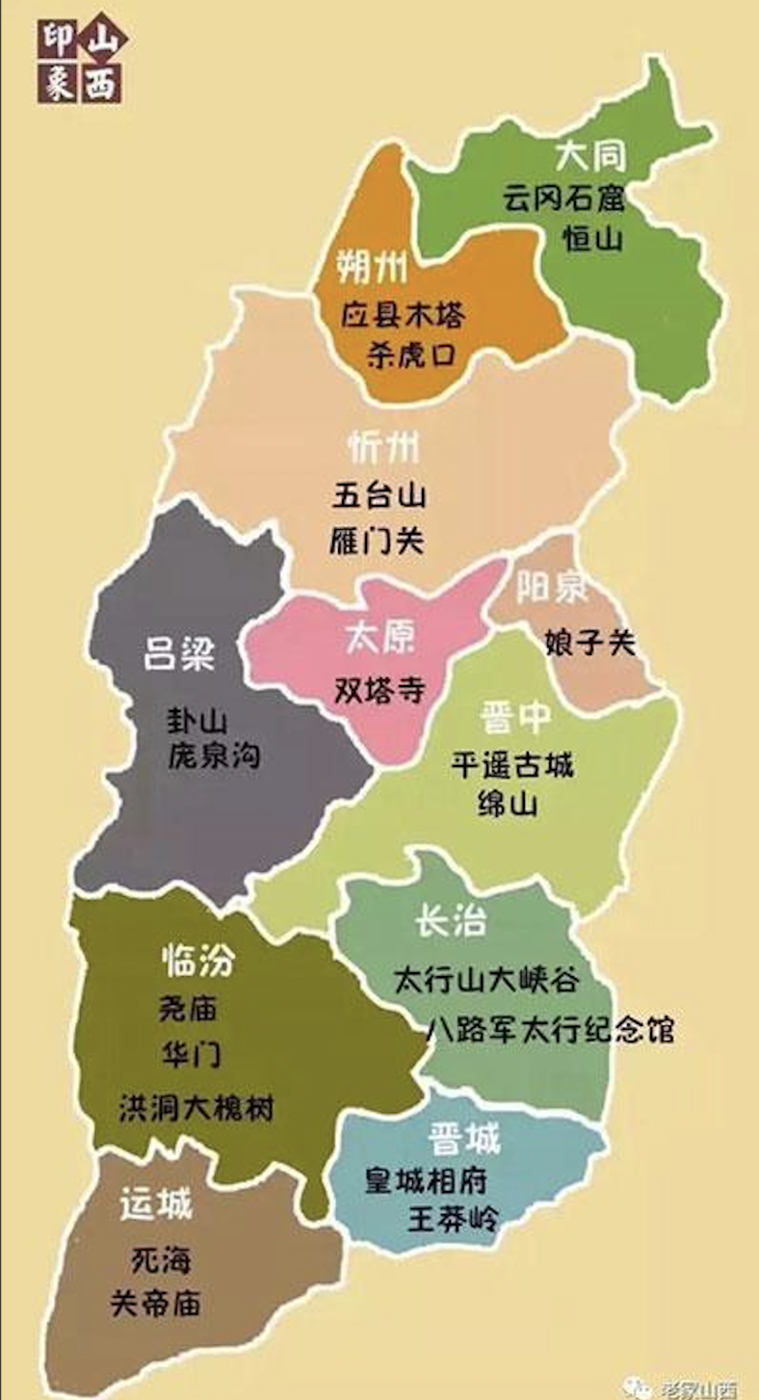 What to see in the Pingyao ancient town?
Three attractions of PingYao Ancient Town

The attractions can be divided into three categories: the City Wall, the old temples and museums, and big courtyard residences.

The Pingyao's city wall and ming-qing streets
Nearly every buildings date back 700 years ago, from the Ming (1368-1644) or Qing (1644-1911) Dynasties. You will feel the strong ancient Chinese town atmosphere because of the car-free streets. There are hundreds of shops line on two sides of busy streets, the commercial avenues stand there for centuries until today, many traditional-style shops sell food, snacks, specialities, paintings, furniture, calligraphy, and souvenirs.
Pingyao town was originally established about 2700 years ago during the Western Zhou Dynasty. The current walls are made of bricks and stone started in 1370. The whole town is in a shape like a tortoise. Tortoise is a symbol of longevity as traditional Chinese custom. The south gate represents the head, and the north gate represents tail. The east and west walls and gates represent the tortoise's feet. There are 72 watchtowers around the wall. When you walk on top of the walls, you will be able to birds-eye view the entire ancient town. It is free to enter the walled city. You will have to purchase a ticket to go inside of the 30 special attractions inside the city. The ticket price is 150 RMB per person. The tickets are valid for 3 days. The visitors can enter every attractions and museum one by one.

Old County Government Office "Yamen"衙门
Pingyao town has a well-preserved county government office, in Chinese "Yamen". There large houses are used as homes and offices for the mayors, judges and senior officials. This yard consists of an archway, ceremonial gate, various offices, a prison, a court, meeting rooms, a residential area, and a garden. This yamen compound was built in 1346 during the Yuan Dynasty. There is only one building remaining from the Yuan period. All the rest were built during the Ming Dynasty. There are over 300 rooms in the complex.

Rishengchang Exchange House
Rishengchang exchange house is a must-see attraction. Let us review one part of Chinese history. During the Ming and Qing Dynasties, Shanxi merchants developed extensive trade routes throughout China and overseas. Pingyao was the center of the trade. In those days, traders used silver coins to pay for goods. It was dangerous for a merchant to carry large sums of silver from one city to another. In 1823, the Rishengchang house started to open the piaohao, similar as check and draft bank. These piaohao provided remittance services, accepted deposits, and made loans. "Rishengchang"means the sunrise prosperity," who firstly established branch offices in different cities of China. They used bank drafts to send money from one city to another. Pingyao gradually became the center of the nation's banking industry. There were over 50% of the country's piaohao setting up head offices in the ancient Pingyao town. Rishengchang Exchange House had a total of 43 branches located in the main Chinese cities as well as in Japan, Singapore, and Russia. There were 22 piaohao (banks) setting up head offices in Pingyao. They controlled a network of 404 branches. Rishengchang survived for 108 years before collapsing in 1932. The Rishengchang Exchange house consists of many courtyards, which was restored and converted to a museum in 1995, opening to the tourists.

Shuanglin Temple (双林寺)
Shuanglin temple is located in Qiaotou Village, about 7 km southwest of Pingyao Ancient town. This Buddhist temple was founded 1500 years ago and contains over 2000 colorful sculptures. There are various gods, warriors, Buddha, and other characters. Shuanglin Temple was constructed during the Northern Wei Dynasty (386-534). The architecture is the highlight of this temple, ten halls and three courtyards. There are amazing collection of terracotta and wood sculptures, over 2000 in total. The clay sculptures were made with wooden molds and generally were produced in the Ming Dynasty. Pingyao Ancient City shares its UNESCO World Heritage Site listing together with Shuanglin Temple and Zhenguo Temple. Photography inside is not allowed and the entry fee is 35 RMB.

Zhenguo Temple (镇国寺)
Zhengguo temple is 12 km away of the ancient Pingyao city. It is in the northwest direction of Pingyao. Zhenguo Temple is a 1000-year-old Buddhist Temple. That is why it shares the UNESCO World Heritage site together with the Ancient City of Pingyao and Shuanglin Temple. Zhenguo Temple was firstly constructed during the Northern Han Dynasty. The impressive temple is made of two sections, the front and back courtyards. The Hall of Ten Thousand Buddha is one of the oldest wooden buildings in China. The square-shaped hall was constructed in 963 and restored in 1815. There are statues and plump-looking sculptures, all with distinctive facial expressions. The intricate roof design is also considered a noteworthy feature of this historical building.

Qiao Family Compound (乔家大院)
Qiao family compound is located in Qi County, 30 km away in the north of Pingyao and 54 km south of Taiyuan. You may get on any buses from Pingyao to Taiyuan and ask to be dropped at Qiao Jia Da Yuan. The bus fee is around 26 RMB. The Qiao family compound was built in 1756 by Qiao Guifa, who made his fortune by selling tea and bean curd in Inner Mongolia. He returned to his hometown and built his dream house, and kept on expanding by later generations. There is one popular film, directed by Zhang Yimou, Raise the Red Lantern, was filmed here. That film has attracted lots of Chinese tour groups.

Wang Family Compound (王家大院),
Wang family compound is located in Lingshi Town. There are 54 courtyards and over 1000 rooms. The large residential complexes were built in the mid 1600s. The Wang family started in farming and expanded into trading successfully, then became officials. As the family grew in size and as they prospered, more and more courtyards were added later. Please follow with my video to enjoy the distinctive architectural style and decorative windows and roofs and doorways. You can also find the decorative paintings, calligraphy, and traditional furniture inside the houses.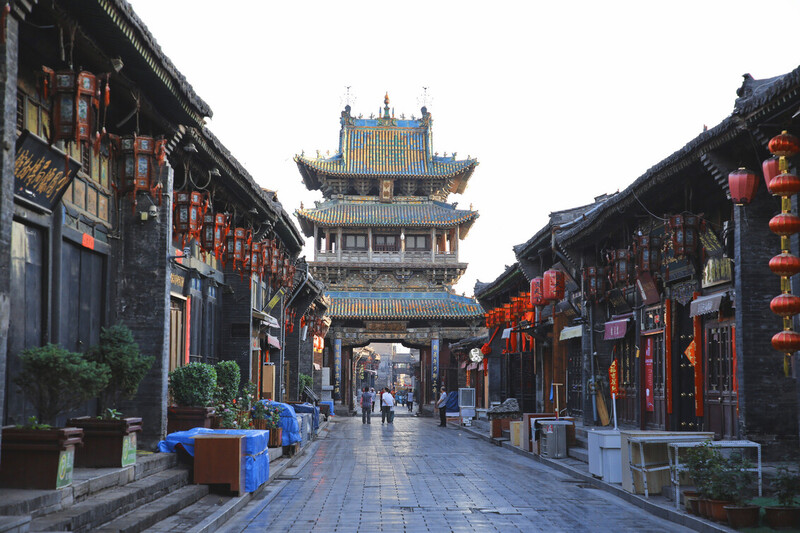 How to get in the Pingyao ancient town?
Ways of Transportation to PingYao
There is no airport in Pingyao. The closest major city and airport is Taiyuan, 55 miles away. It usually takes two hours by bus from Taiyuan to Pingyao. Another option is to take the high-speed trains and get off at Pingyao station. You may connect Taxi or buses from the high-speed station to reach Pingyao.
You can also consider joining a group tour. The travel agency will help you organize all your transportation. For a long journey, Taxi is the least option to choose, as an expat, you may be over charged although the drivers are willing to negotiate prices with you. Additionally, if you book Pingyao accommodation in advance, please check if your hotels offer pickup from the train station, surprisingly many hotels do free or charged service.
After check-in your hotels, walking is the usual way to get around. However if you feel lazy, you can hire golf carts or to rent bikes.
Starting from Feb. 2020, the covid19 pandemic makes the international travel difficult and much less than before. Hopefully my video will give you some guide for your travel someday in the future. Thanks for watching, please subscribe to my channel and will continue to enjoy more China tours with me.