Story of the Shanghai City Flower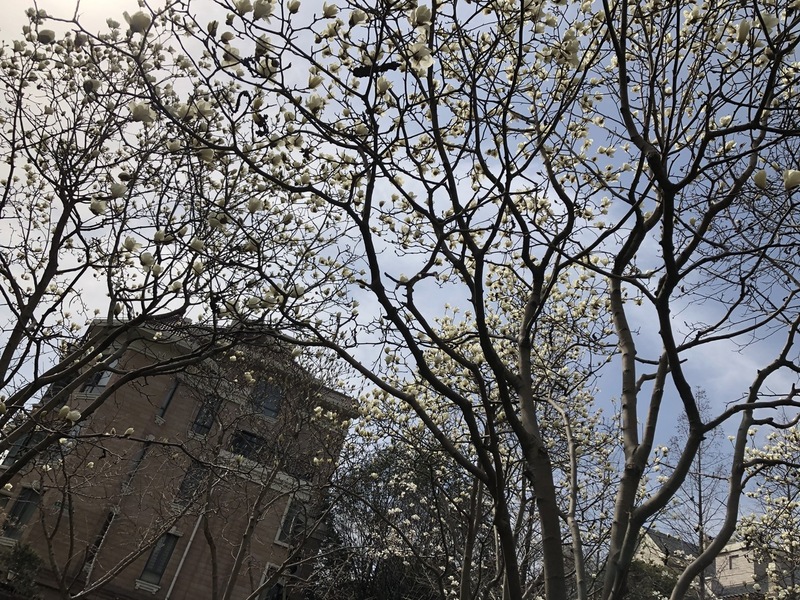 Some people call it jade orchid /lily tree or Yulan magnolia 玉兰花. Magnolia lily trees are natively grown in central and eastern China. Its white flowers are regarded as a symbol of purity in the Tang Dynasty. It has been ornamental trees in Chinese Buddhist temple, gardens and planted in the Emperor's palace
The magnolia trees blossom extraordinarily early. When winter waned and spring comes, the white magnolia has already in full bloom before the Chinese Qingming Festival. The white magnolia flowers are small and pure white and blooming upwards. Shanghai people like it and choose it as its city flower because it symbolizes a kind of the spirit rising in great vigor. Therefore, white magnolia has embedded in the mind of Shanghai people as a beautiful icon.

Few people know that cotton was once the city flower of Shanghai. In 1929, Shanghai publicly selected the city flower in the press, and cotton ranked first and was elected as the Shanghai flower. Cotton is indeed less romantic than roses and not as expensive as peony. During the Republic of China in the 1920s, Shanghai was already the fifth largest city in the world. At that time, the Shanghai city hall wanted to choose a city flower to compare with sister cities such as London, New York, and Paris. In 1929, the Shanghai government office initially proposed three types of flowers: lotus, rose, and bamboo, which were sent to the mayor for selection. The city government suddenly decided not to let the mayor make a ruling, but to hand it over to the Shanghai citizens to vote. After voting, more than 17,000 valid votes were received. The announcement of the statistical results was largely out of the organizers' expectation that the popular and mediocre cotton topped the list with 4,567 votes and won the city flower crown. In fact, the relationship between cotton and Shanghai dates back to ancient times. In the Ming Dynasty, cotton was the most important crop in Shanghai. From the Song and Yuan Dynasties to the Ming and Qing Dynasties, the cotton textile industry and the international shipping industry have always been the two major economic pillars of Shanghai. With the changing of the industrial structure of Shanghai's state-owned enterprises in the 1990s, the cotton spinning mill has lost its beauty. However, cotton, as an important memory symbol in the history of Shanghai's urban development, will always remain in our hearts.

In 1983, the Shanghai government office proposed to use rose, peach blossom, begonia, pomegranate, rhododendron, and white magnolia as candidate city flowers. The Shanghai citizens were invited to vote for selection in the eleven parks of Shanghai. It is reported that the city government finally received more than 100,000 votes, of which Magnolia had the most votes, followed by Peach Blossom. In 1986, the Shanghai city hall decided that Magnolia was the city flower of Shanghai.